Grading Company Jacksonville, NC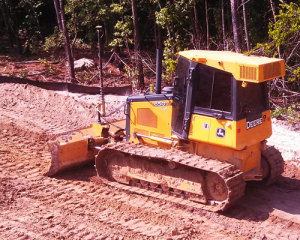 At Lanier, we perform all steps of the grading process. From rough grading to fine and everything in between, we are experts when it comes to completing your project in Jacksonville, Camp Lejeune, Wilmington, Havelock and all of Southeastern NC.
As a grading contractor, we perform large onsite cut and fill operations using the latest GPS grading technology. GPS technology has replaced the antiquated stakes that only slowed down grading projects in the past. Now the operators have much more "real time" information at their fingertips as they work. The new methods allow us to perform our job with precision and increased productivity, getting it done right the first time. Additionally, we use late model equipment to maximize time and efficiency. This creates savings we pass along to you, our customers.
For all jobs, we work with local testing firms to ensure that all the material we place is compacted to the job standards. Since 2003, we have provided this type of top quality service to our Jacksonville, NC and surrounding area's customers.
Some of our grading and excavating projects include:
Grade building pads
Grade parking lots
Dig ponds
Lay storm drain
Large culvert replacement under roads.
For more information about our grading contractor services, contact us today at (910) 455- 7080.