Lot & Land Clearing in Jacksonville NC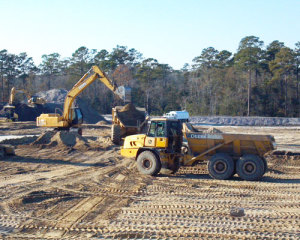 We can perform land clearing on small to large sites, ranging from ½ acre lots all the way up to 100 acre sites. Since 2003, we have self-performed as well as acted as a subcontractor for qualified contractors on land clearing projects in Jacksonville, NC and all of Southeastern NC. We are efficient, completing every job within the time frame set forth before the project even begins.
There are several ways we can dispose of materials we clear from your land. We can burn the materials, if the weather and site conditions permit. The second option is to haul the material to a recycle yard. The last option is to have the wood debris ground on site and hauled to an environmentally friendly facility to increase LEED points on your job. Whatever the situation, we work to your high standards and will clear your land to your specifications and dispose of the materials if you are located in Jacksonville and Southeastern North Carolina.
In order to get your site preparation off on the right foot, contact us at Lanier for all your land clearing needs. Contact us today or call (910) 455-7080.