Site Work in Jacksonville NC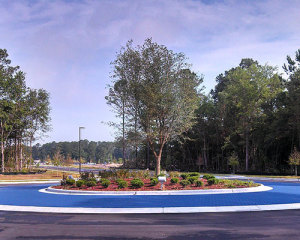 At Lanier Clearing, Grading & Utilities we are fully equipped to perform all aspects of a site work package to our clients in Jacksonville, NC and all of Southeastern NC. We use the latest GPS equipment for the entire project, from the layout of the clearing limits to the final grade to ensure your site is graded in a timely manner and more important it graded correctly to ensure proper drainage. We can haul single loads of dirt form house pads or import several thousand cubic yards for large commercial sites.
We hold an Unlimited NC Contractors License with Classification in Heavy Highway and PU (Water and Sewer lines). Although we perform most of the work ourselves, we do subcontract out the specialty trades like debris grinding, concrete placement and asphalt paving to the area's best subcontractors. This ensures that your site work project is completed from start to finish by well-trained and equipped experts.
Our site work services include:
Clearing and Grubbing
Erosion Control
Dig retention ponds
Rough grade site
Site utilities
Place stone for parking lots
Place curb and gutter
Fine grade and pave parking lots
Final dress out and land scape
Some of our past site work projects include:
Commercial sites
Churches
Sport complexes
Land fills
City streets
Intersection realignments
Federal Projects
Parking lots
Ponds
And more.
Contact us today for more information on our site work services at (910) 455-7080.